A jacket is one of the easiest ways to spruce up an outfit and make it look more pulled together. But with so many different styles, it can take a lot of work to choose the right one for your look. Luckily, we've got some tips to help you pick the perfect jacket for any outfit.
Add a color accent
Adding a bright detail is one way to make your outfit more interesting. Usually, we choose jackets in neutral colors, so they are easy to match with other clothes. But we can also safely add color with gloves, a scarf, or a small bag. For a more subtle approach, wear a denim jacket with colored stitching. It is excellent to add a pop of color without being too over-the-top.
Wear it with unexpected items
Try pairing your jacket with unexpected items if you want to stand out. For instance, you could wear a cropped jacket with a long dress or skirt. Or try a denim jacket with a formal gown. It is a great way to add some edge to your look.
Wear with a skirt
It is easy to wear comfortable jeans and run out of the house. You can throw a jacket over your shoulders and button it in the elevator. But if you wear a midi skirt, you will look stylish. Choose monochrome clothes, so you don't make a mistake. A pair of high heels will help you look even taller. You can also try wide-leg pants if you don't want to wear a skirt.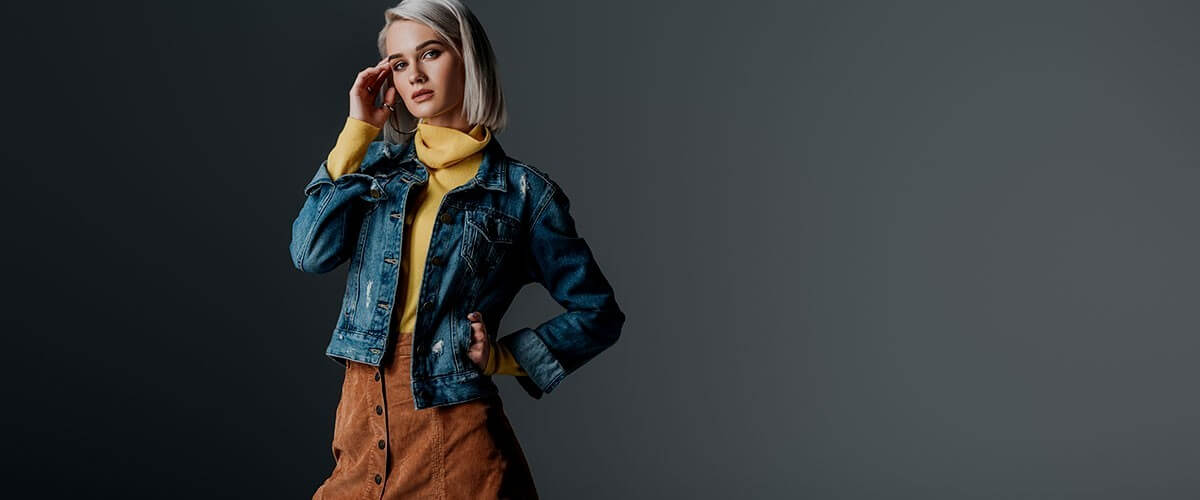 Try different cuts
Not all jackets are created equal. There are so many different cuts and styles out there. The possibilities are endless, from bomber jackets to denim jackets to moto jackets. And each one can give your outfit a different feel. So don't be afraid to experiment with different cuts and styles until you find the one that's right for you.
Play with textures
You deserve attention! Feel free to wear outerwear that is glossy or fluffy. If you are still deciding what to wear with these jackets, find a companion piece with the same texture. Or, if you want to experiment, try pairing a flat piece with a glossy jacket or smooth accessories with a fluffy jacket.
Focus on the legs
If you can't change your clothes, try changing your shoes. Boots with fantastic design can make you look and feel different. If you want to try something new, look for shoes with unexpected details like zippers, straps, or buckles. These can add some edge to your outfit.
Use layering
Another good way to dress is by layering your clothing. It means wearing a few different pieces of clothing on top of each other. For example, you could wear a thin blouse under a jacket. This way, you will stay warm and also create the effect of a complex image. You can also try layering.
These are just a few tips to help you make your jacket look more fashionable. The possibilities are endless, with many different styles and ways to wear them. So have fun and experiment until you find the perfect look for you.